Politics
Assin North: NDC exposed of buying votes
The Director of Communications for the New Patriotic Party (NPP) Richard Ahiagbah has accused the National Democratic Congress (NDC) of vote buying in Assin North ahead of the by-election on Tuesday, June 27.
Mr Ahiagbah indicated that while the NPP is focused and canvassing for votes, their opponents are sharing goodies in the constituency.
"Here is one of the sharing depots of the National Democratic Congress. Now, watch them deny and point false accusing fingers at others after doing this. The NPP is focused and canvassing for the votes we need for victory on June 27th," he tweeted.
Mr Ahiagbah's counterpart in the NDC, Sammy Gyamfi also accused the NPP of vote buying.
Mahama questions SC ruling on Assin North MP; says denying constituents an MP is travesty of justice
The National Communications Officer of the NDC said that the NPP is buying votes with fertilizers and state-owned knapsack sprayers.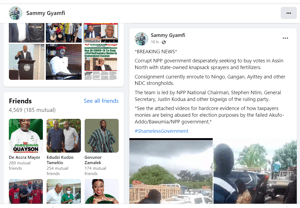 In a Facebook post, he said "Corrupt NPP government desperately seeking to buy votes in Assin North with state-owned knapsack sprayers and fertilizers.
"Consignment currently en route to Ningo, Gangan, Ayittey and other NDC strongholds.
"The team is led by NPP National Chairman, Stephen Ntim, General Secretary, Justin Kodua and other bigwigs of the ruling party. See the attached videos for hardcore evidence of how taxpayers monies are being abused for election purposes by the failed Akufo-Addo/Bawumia/NPP government."