General News
Mass transfer of teachers hits Benkum SHS school after sex scandal
Emmanuel Nyarko, the Headmaster of Benkum Senior High School (SHS) is facing the consequences of alleged sexual misconduct in the school.
The teachers, who were accused of engaging in sexual relationships with students, have since been transferred and have since been making similar allegations against the headmaster.
Mr Nyarko has been busy attending fact-finding meetings at both the District and Regional Education offices regarding the allegations of sexual misconduct and his attempts to address the concerns of parents.
In September 2022, Adomonline broke a story about a leaked sex video involving some teachers and students of the school, shedding light on an unhealthy environment.
Some of the teachers who were implicated in the allegations were subsequently transferred. Dissatisfied with this development, some affected individuals sought to retaliate against the headmaster.
Emmanuel Mensah, a former English teacher who had leaked the sex video, appeared before a Regional Education Committee to respond to the allegations and subsequently left the school.
In addition to Mr Mensah, seven other teachers have been transferred: Isaac Banieh, Anim Owusu, Augustine Nartey, Bright Osei Boateng, Michael Yirenkyi, a kitchen staff member named Martha, and a driver named Mike.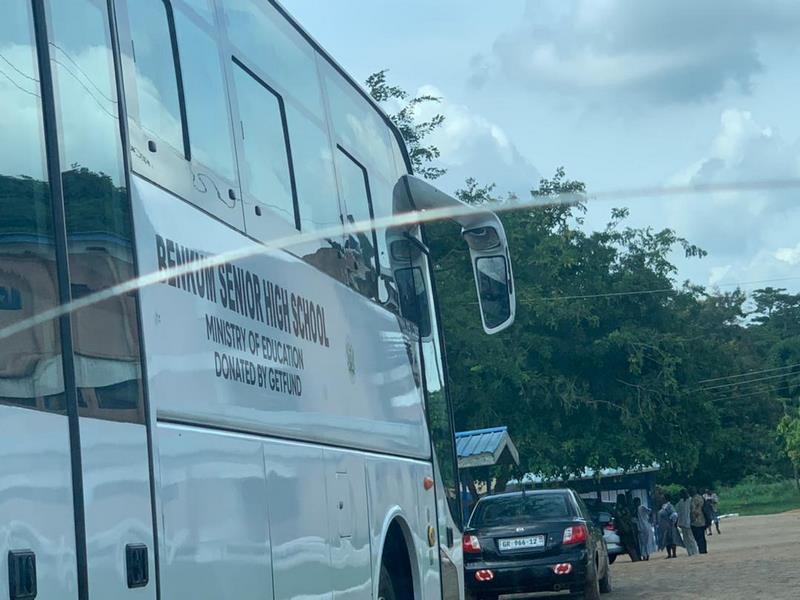 It is believed that this action aimed to remove those who either had knowledge of the sexual misconduct or were alleged abusers themselves.
Adom News' reporter, Ohene Amponsah, has been present at Benkum SHS and as of the time of filling this report, a somber mood permeated the school.
Teachers and students appeared disheartened, while alumni gathered in large numbers to ascertain the situation. Staff members were seen in groups discussing the matter or observing others intently.
The Assistant Headmaster informed our reporter that the headmaster, Mr Nyarko, was currently away.
Although teaching and learning were ongoing since the morning of Tuesday, May 23, students seemed visibly affected. An audio clip obtained by the team featured an unidentified parent narrating her daughter's ordeal.
The Ghana Education Service authorities at the district and regional levels have intervened to investigate the matter.
Sources revealed that despite transferring all the teachers directly or indirectly involved in the sex scandal, the headmaster himself resisted being transferred and continues to remain at the school, albeit with a transfer letter.
A female student called on the GES to ensure a safe and untarnished school environment by transferring all the teachers involved, as their actions were tarnishing the school's reputation.
She acknowledged rumours of such harassment but claimed not to have personally experienced any sexual misconduct by male teachers.