There was pandemonium at the Kasoa constituency office of the National Democratic Congress as some supporters of one of the aspiring candidates stormed the office to register their displeasure against the change of the venue marked for the May 13 primaries.
This resulted in a standoff between supporters of Dina Tetteh, the aggrieved candidate, and the party's security as the supporters tried to force their way into the party office to register their displeasure against what they described as interference from the regional Chairman.
They accused the regional Chairman, Richard Asiedu, of changing the agreed venue for the upcoming primaries to favor the former parliamentary candidate, Naa Koryoo Okunnor.
It took the intervention of police officers from the Kasoa Division to calm the situation.
Some aggrieved supporters who spoke with Onua News said the change in venue is an orchestration by the chairman to favor a particular candidate.
"It is rainy season and it is common sense that we don't organize election on a school park. Our executives have decided where we are going to have the elections and the Chairman cannot decide for us. We are sending a word of caution of notice that we will not allow him to manipulate the process in Awutu Senya East. He should stay where he is and allow us to control our affairs," an aggrieved delegate fumed.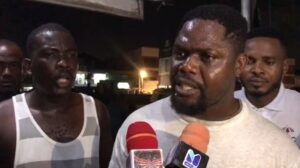 Another delegate said "it is about time we respect the structures of the party. We can't have a party chairman who does not respect the structures of the party.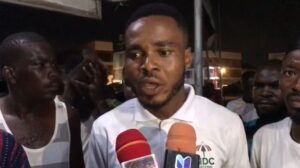 "All the four candidates came to a consensus that we hold the election at an agreed venue but one aspirant petitioned the regional executives that we change the venue and use the school park which we agreed. Then again she said she doesn't want that place too," an aggrieved constituency executive shared.
Meanwhile, Phylis Naa Koryoo Okunnor, has denied knowledge of the change of venue.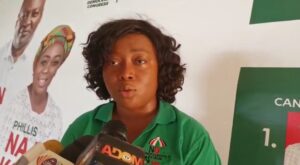 She says the first venue was changed by the police for security reasons. She is optimistic of being victorious irrespective of where the polls is held.
"It is surprising that they are accusing me and the constituency chairman. He is a man of dignity who takes his own decisions devoid of people's interest. And it doesn't matter where the election takes place, I will win," she was confident.